Host a Party
Do you Like free jewelry? Is your wardrobe in need of some sprucing accessories that can be personalized? Does interchangeable jewelry that creates a new look everyday interest you? Do you enjoy an occasional "Girl's Night Out?"
Host a party and earn FREE jewelry and promotions.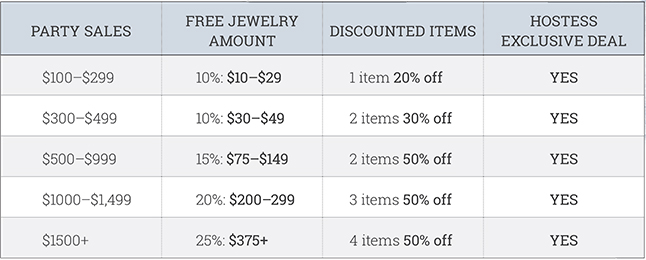 Hostess FAQs
We love our hostesses! Below are some frequently asked questions by our hostesses to help you as you host a jBloom party.
Everyone! jBloom parties are a fun way to connect with other women and share your passion for jewelry. The best thing about hosting a party is we reward you with FREE and discounted items! It's our way of saying "thank you!" See our Hostess Rewards plan.
Finding one of our amazing Designers in your area is easy! Go to our Find Your Designer located at the top of the website!
A party is a fun, fabulous way to connect with your friends! It's just requires a few simple steps working with your designer and then its time to enjoy a wonderful night of shopping. The best part is we reward you with FREE jewelry for hosting.